Building out supports to improve, train and deploy new technologies

Building out supports to improve, train and deploy new technologies
Regional Cluster Ireland and the UK, host two collectives of people who work to connect the dots in Agri-Tech through an industry facing hub to support and improve access, awareness and training for agriculturalists with the latest commercial agricultural technologies and a cluster of businesses to support the uptake and development of new innovative digital technologies specific to the Agri Sector. The Hartpury Digital Farming Network has been launched to keep UK farmers and wider stakeholders in touch with the latest technological advancements in the agriculture industry, The AgriTech Ireland cluster is a coming together of industry, knowledge providers, government organisations and the wider agricultural community to unlock opportunities to grow Ireland's AgriTech industry.
Hartpury Digital Farming Network
This has been created by the Hartpury Agri-Tech Centre, based at Hartpury University and Hartpury College in Gloucestershire, UK. An industry facing and engaging complex that provides a hub to support and improve access, awareness and training for agriculturalists with the latest commercial agricultural technologies. This work is also provided comprehensively both through practical demonstration and hands-on experience as well as through technical training and workshops.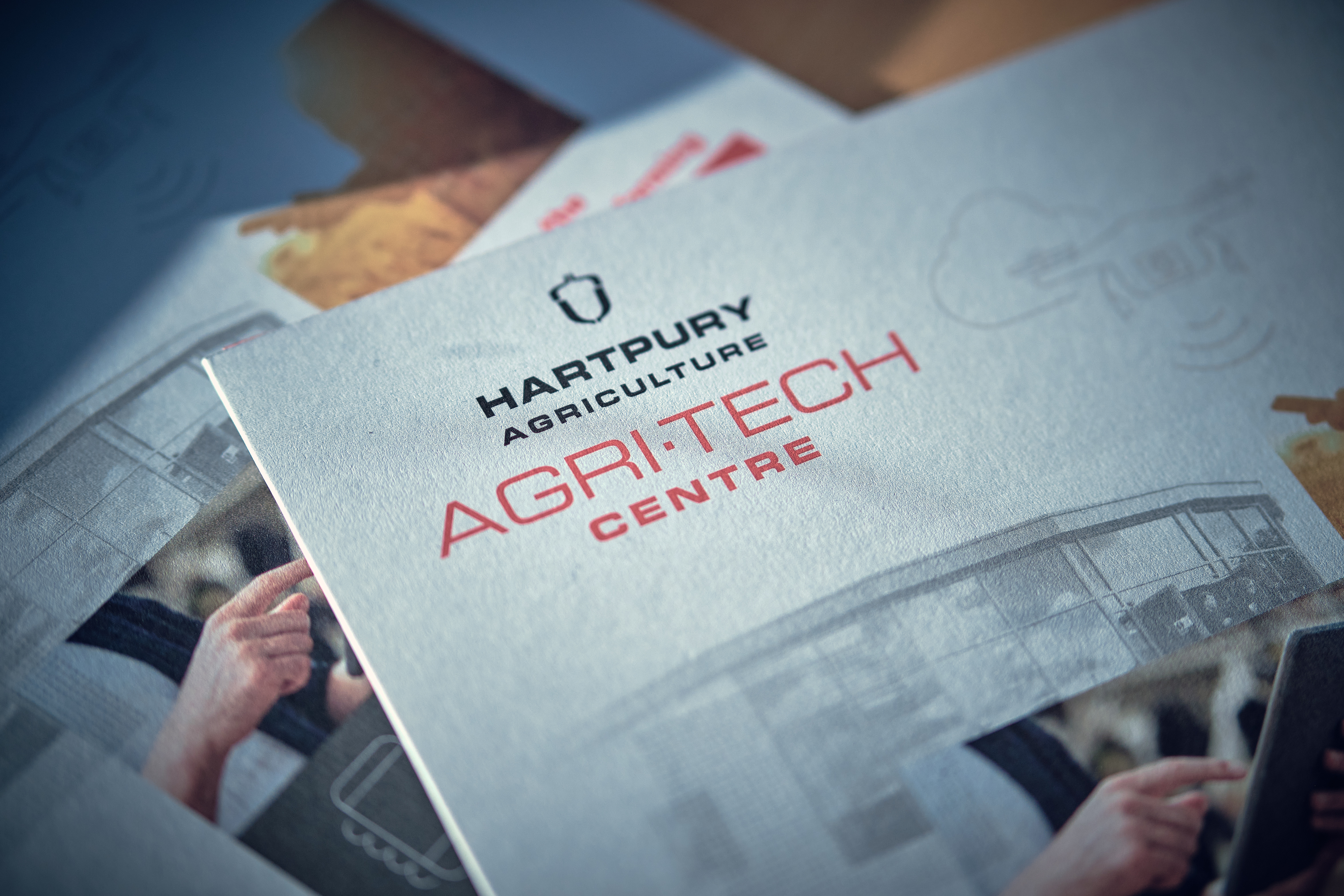 Since being launched in November 2020, this is now comprised of over 1000 registrants and now both nationally and internationally recognised and represented. This is made up of farmers, innovators, advisors and general stakeholders, all equally sharing an interest in agri-tech and innovative agricultural practice.
Despite an increase in the number of technologies being developed for application in the food supply chain, we are still not seeing the adoption or use of technology as widely as expected. This is due to multiple factors, however fitting into the globally recognised gap between innovation and commercial practice within the agricultural industry, this unique community was created with an applied and realistic focus, supporting the standpoint and position of the Agri-Tech Centre and the needs and interests of farming professionals who are making their first of further steps with the latest agri-tech solutions.
Having a focus on real-world application and adoption rather than "blue-sky" thinking is the culture created by this network. Now with a growing community of stakeholders in the area of agri-innovation and agri-tech, this will be fundamental to supporting the efficient adoption and utilisation of new products, services or management practices as we move through technological change and advancement within primary food production.
Targeted outputs for this growing applied-focussed community, is to have international representation and with over 2000 registrants by 2023. This is believed by others, to be more than achievable and will open more collaborative working opportunities both nationally and overseas.
The AgriTech Ireland Cluster
The cluster initiative, based out of the Munster Technological University (MTU) Kerry, is part of a national approach led and funded by Enterprise Ireland, which is the government organisation responsible for the development and growth of Irish enterprises in world markets. The mission of the AgriTech Ireland Cluster is to accelerate the sustainable growth of Ireland's AgriTech industry. The cluster, managed by Kieran O'Donoghue, is providing collaboration opportunities to enhance the ability of Ireland's AgriTech industry to grow and internationalise. One such opportunity is a bespoke, digitalisation focused "Process Optimiser" programme funded by SmartAgriHubs, where companies work together to drive productivity improvements while participating employees obtain MTU accreditation in value stream mapping to recognise skills development.
The goal is to build a cluster of AgriTech companies from across Ireland to drive AgriTech company productivity, competitiveness and internationalisation. The cluster's strategic work plan aims to take advantage of Ireland's agricultural heritage, coupled with Ireland's depth of technological expertise. Services are shaped by industry members to meet their needs and sustainability is an underpinning theme to minimise effects on the environment and ensure long-term business success.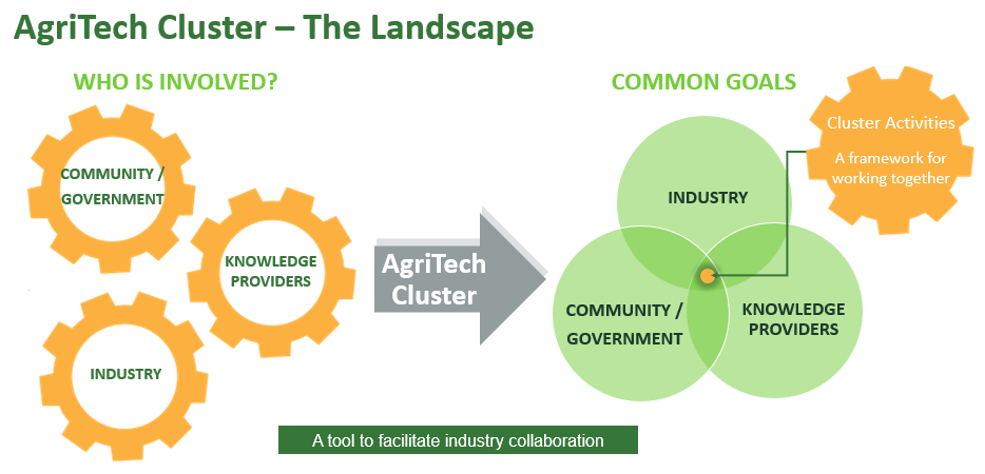 The key differentiating factor for the use of industry clustering within the AgriTech sector is collaboration, the ability to work together with companies in pursuit of shared goals, to connect companies together, to connect companies to knowledge providers and to government initiatives.
There are 5 strategic focus areas for AgriTech Ireland cluster activities where collaboration is the glue that blinds the stakeholders together:
1.- Research, development and innovation
2.- People & skills
3.- Productivity
4.- Products & services – affordable, reliable and value-adding
5.- Market growth
The AgriTech Ireland cluster vision is that Ireland becomes a go-to location for agriculture technology solutions. We aim to demonstrate how people working together across different functions and organisations can drive change and achieve more than working alone. The cluster's role is to connect the dots between the stakeholders, there are many opportunities for projects where industry collaboration with research organisations connected to financial support can position Ireland as a lead AgriTech solution provider.