The role of rural advisors in interactive innovation

The role of rural advisors in interactive innovation
The Digital Revolution in agriculture is currently a reality. However, it is important that the benefits of digitisation are available and that they bring a real impact on the agricultural community in general. In fact, digitisation represents a huge opportunity to transform data into useful information, becoming a real decision support tool.
In the agricultural sector we have farmers receptive and adapted to this revolution, but most of the 12 million farmers in the EU will need the support of rural advisors to adopt different technologies and make decisions adapted to their specific agricultural context.
The current reality tells us that the speed of development of technologic and innovative solutions is totally out of step with the speed at which these solutions are applied and incorporated, both in agriculture and forestry, generating disappointing indicators regarding the impact in the agriculture and forestry value chain.
Rural advisors have a crucial role!
A recent study conducted by SCAR-AKIS (Standing Committee on Agricultural Research / working group on Agriculture Knowledge and Innovation Systems) sought to address the future of advisory services, where it is recommended that more rural advisors are involved in interactive innovation projects to stimulate dialogue between different actors. Rural advisors have a clear impact on farmers' and foresters' decisions and should play a key role in linking academia and the application of knowledge.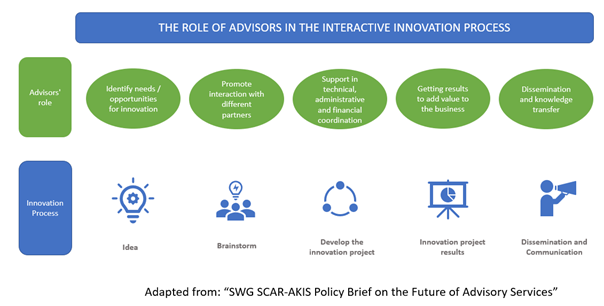 Whereas the term 'advising' until recently referred only to a specific technical capacity of an adviser in his or her relationship with a farmer, it is recommended in this study that advisors should also develop the necessary skills to take on a more interactive role in innovation projects - interactive innovation. This is a change / adaptation that has been adopted and developed by advisors in Portugal, making their role increasingly broader, but also more relevant. Some advisors are currently responsible for generating change in the context of innovation, recognising the farmers' needs, understanding the different innovative solutions available and building a vision for the whole value chain.
These are complex challenges for advisors, but the truth is that they will also have to be able to embrace the digital revolution, in a context of interactive innovation.
It is a challenge that we, rural advisors, will certainly accept!
For more information on SCAR-AKIS: click here
The Horizon2020 project i2connect is creating a support network and a networking culture among advisors facilitating innovation processes in European agriculture and forestry.