SmartAgriHubs
EURACTIV Event: Education For A Sustainable Future - Empowering Individuals To Tackle Climate Change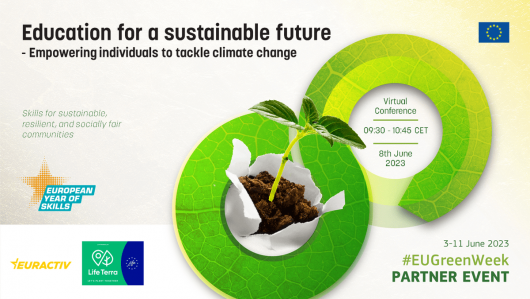 08 June 2023 | 09.30 to 10.45 CET
Education plays a critical role in addressing climate change as it raises awareness and builds the knowledge and skills necessary to transition to a low-carbon, sustainable future. Some of the ways in which education can contribute to tackling climate change include climate literacy, sustainability education, green skills training, and community building.
As the world shifts towards a more sustainable future, there is an increasing need for workers with green skills, such as renewable energy technicians, sustainable building designers, and green business managers. Education can help prepare individuals for these in-demand jobs and support the transition to a low-carbon economy.
Join this EURACTIV Virtual Conference to discuss the role that education plays in building a sustainable future and empowering young people to tackle climate change. What could be the most efficient tool in equipping today's youth with the skills needed to make a real difference in mitigating and adapting to the effects of climate change? How can public-funded projects contribute to this?