Open Call
SmartAgriHubs open calls are now officially closed. This page will provide you with information of the structure of our open calls scheme, as well as its impact.
SmartAgriHubs offered funding to digital innovation services providers. This included the overall life-cycle for developing, setting-up, offering, providing, testing, validating, refining as well as enhancing services for Digital Transformation and Innovation. Selected applicants were receiving either 70 or 100% of funding to cover eligible costs. The goal of the open calls was to help organisations to:
• Become a regional partner for innovation in the agri-food domain,
• Support preparation & realisation of Innovation Activities funded by SmartAgriHubs, and
• Join a pan-European Innovation Network as a Node in your region
Proposed work was to be coordinated by Digital Innovations Hubs (DIHs). As we consider a "Digital Innovation Hub" as a Role of an organisation than its only purpose, all kinds of organisations were invited to apply that aim at the set-up and offering of DIH services. The following figure presents typical examples for innovation services SAH considers very valuable to promote digital transformation in the European Agri-Food Sectors

Those innovation services are usually provided to teams of stakeholders that are realising Innovation Activities. The strategic objective was to help those teams to lower innovation barriers, facilitate knowledge exchange as well as learn about available solutions, costs, benefits and potential pitfalls.
SmartAgriHubs organised different open calls that were designed in accordance to different activities realised by established or new DIHs. The following figure provides some overview information about the different SmartAgriHubs Open Calls.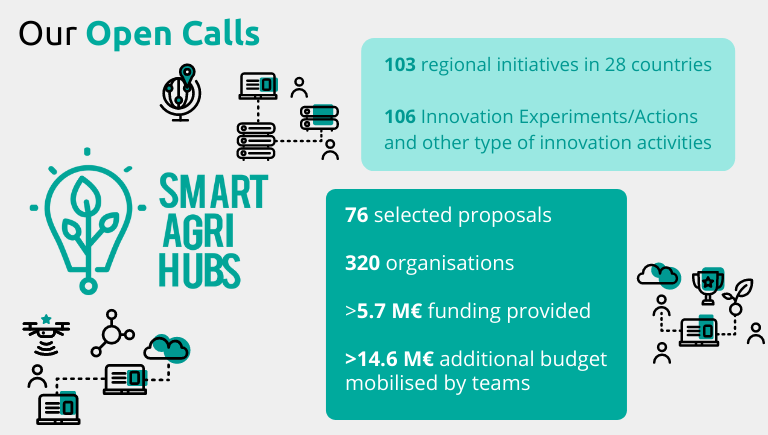 The RESTART & EXPAND Open Calls were published on July, 08th 2020. The SERVICE Open Call was published on September 22nd, 2021. The RESTART Open Call closed on 29th September 2021, 17:00 (Brussels time). The EXPAND and SERVICE Open Calls closed in February 2021. At several deadlines during that period, batches of proposals were evaluated and started after each evaluation batch. This means that until the final deadline applicants could submit their proposal to the Open Calls, receive a response and start their project before the final deadline.
SmartAgriHubs organised two additional open calls - the RESPOND & PREPARE open calls. The projects selected in the RESPOND open call are already finalised and results were published in different webinars. The projects selected in the PREPARE open call started in mid-2021.
Purpose
The SmartAgriHubs Open Call for proposals had as a key objective to expand the existing SmartAgriHubs community network with additional stakeholders and to promote the realisation of innovation experiments. The collaboration with new and existing Digital Innovation Hubs (DIHs) and Competence Centres (CCs) resulted in a joint effort of an active and dynamic community that creates knowledge and practical experience that will ultimately facilitate and disseminate digital innovation in the agri-food domain.
Digital Innovation Hub
Digital Innovation Hubs (DIH) are support organisations that aim to make businesses more competitive by speeding up the development and uptake of digital innovations. They provide these services close to the end-users ("at working distance") and thereby cater to the needs of agricultural producers and food processors in a specific region.

Competence Center
These can be (agricultural) research institutes at universities, experiment stations or farms, extension agencies or seed companies. The organisation acting as a Competence Centre may also play the role of the Digital Innovation Hub orchestrator, taking a coordinating, organising and/or an agenda setting role.
SmartAgriHubs supports this with its available team, knowledge, and tools:
The existing DIH network in SmartAgriHubs offers collaboration with additional and new Digital Innovation Hubs to facilitate experience exchange.
The network of Competence Centres is helping to identify and offers the most appropriate technology related expertise required for a successful realisation of an innovation experiment.
Community of SMEs, startups and scale-ups, helping to find promising tech suppliers, partners as well as reference end-users.
Flagship Innovation Experiments from SmartAgriHubs and use cases from IoF2020 serving as show cases for digitisation and innovation in the agri-food domains and
Excellent, well-equipped support team present in most European regions, familiar with local and sector specific challenges.
The current CORONA crisis and its impact on the agri-food economy has pushed the SmartAgriHubs team to design the Open Call approach responding to the needs of the sector in these critical times. We launched the RESTART and EXPAND open calls that are addressing the overall agri-food economy. These open calls were addressing Digital Innovation Hubs that are coordinating and submitting proposals for supporting diverse stakeholders in the agri-food economy and specifically SMEs as drivers for digital innovation.
The SERVICE open call is funding projects that will make agri-food related businesses more competitive by speeding up the development and uptake of digital innovations.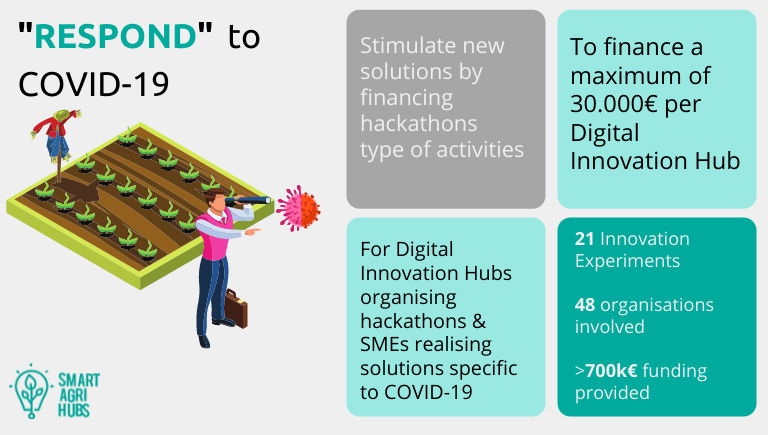 The RESPOND open call was open from 12 May 2020 to June 3rd 2020. RESPOND was designed as the first phase of a three-phase programme, to be followed by RESTART and EXPAND. During the RESPOND phase, the SmartAgriHubs community directly tackled the challenges faced in the agri-food sector due to the current crisis.
In the light of the current COVID-19 crisis, it is essential to further stimulate the development of digital innovations which can tackle the challenges currently faced by the Agrifood sector. Considering this, SmartAgriHubs has investigated the possibilities for funding research that helps our sector in these trying times.
The RESPOND open call was divided in 2 parts:
- RESPOND to generate ideas for potential Innovation through challenges or hackathons, coordinated by 1 or several Digital Innovation Hubs.
- RESPOND2: SaH2SMEs aimed at SMEs, to RESPOND to the effects of the crisis and use potential opportunities to fight against the CORONA COVID-19 pandemic from the perspective of what digital innovation can contribute to minimize the consequences of the crisis to the European agri-food economy
Proposals needed to include at least 1 Digital Innovation Hub.
RESTART the Economy around Food Systems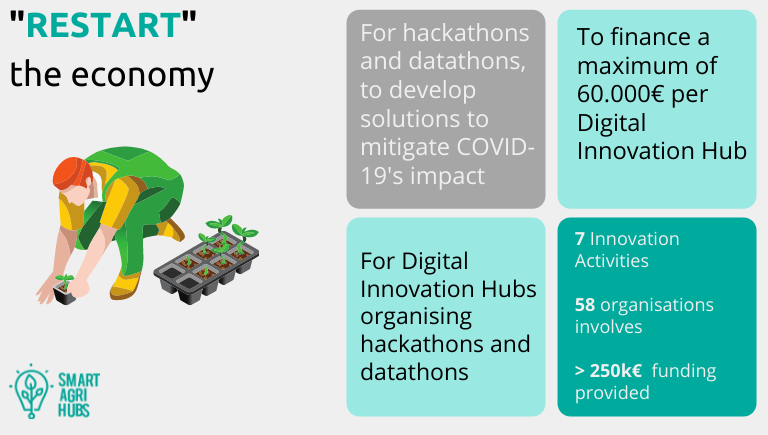 This open call aimed at supporting hackathon type of activities that will contribute to a RESTART of the European Agri-Food Economy after the COVID-19 Crisis.
Proposals had to realise potential opportunities that are addressing the effects of the CORONA COVID-19 pandemic from the perspective of what digital innovation can contribute to mitigate consequences in the agri-food domain. Such activities were envision to be specifically:
• Online & offline Hackathons
• Focused Challenges
• Datathon Proposals that could have a direct as well as indirect impact on the effects of the CORONA COVID-19 pandemic
Results of RESTART
A special SmartAgriHubs newsletter is dedicated to the hackathons organised under the RESTART open calls.
PREPARE an Innovation Experiment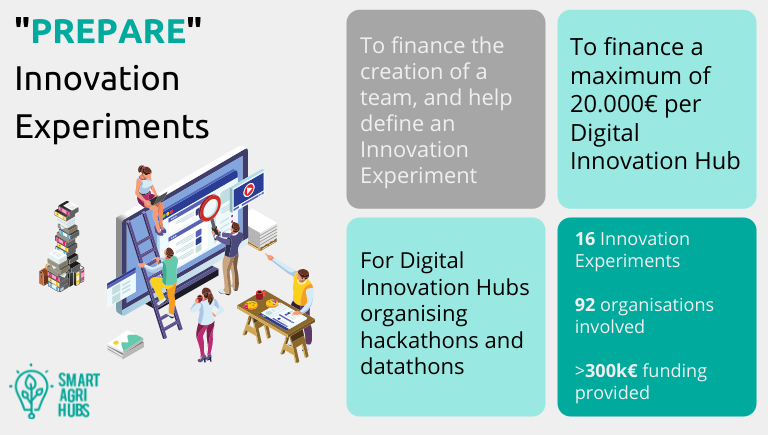 A specific objective of this PREPARE open call was to prepare a proposal for an Innovation Experiment that can be submitted in the EXPAND open call. Because these IE proposals are not necessarily to be submitted in the EXPAND call, the more general objective is to plan and prepare the realisation of one or more Innovation Experiments.
The projects selected under PREPARE needed to produce the following deliverables:
Team: Compilation of an appropriate team, able and committed to realise the Innovation Experiment from an end-user, business, technological and extended stakeholder perspective.
Technology readiness level and feasibility: Analysis of the technology readiness level of the envisaged innovation, the technical and economic feasibility and its relevance for the supported team to have an impact that could be realised in the scope of an Innovation Experiment.
Budget: A budget planning for realising the Innovation Experiment(s). DIHs shall also include the financial plan, detailing the path to facilitate access to additional private investors and/or regional, national, European funding schemes provided by third parties.
Project plan: A project plan consisting in one or more Innovation Experiments, explaining the timing of activities, milestones and deliverables. This could also be materialised in the form of a project proposal to be later on submitted to a relevant open call to further support the realisation of the aforementioned Innovation Experiment(s) (e.g. by the SmartAgriHubs EXPAND open call).
Letter of intent: Signed letter of intent by the main participants in an Innovation Experiment, stating their role and envisaged effort and in-kind contribution to be committed.
SERVICE the SmartAgriHubs Community Network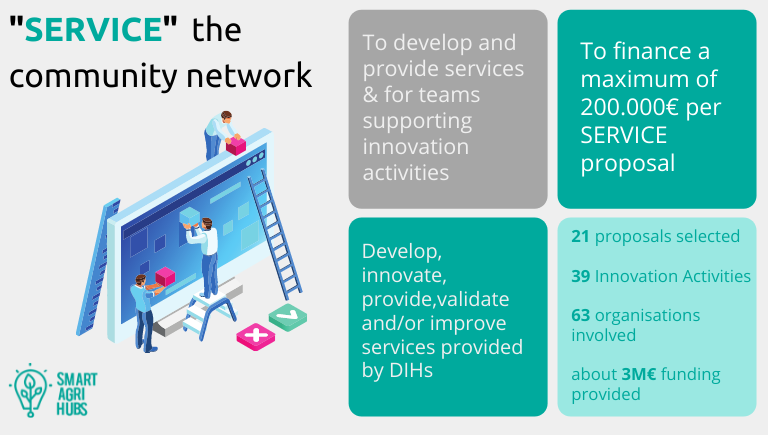 SmartAgriHubs launched the SERVICE open call on September 22nd, 2021. Teams that are coordinated by a Digital Innovation Hub had to develop and/or deliver and validate their function as a service provider, helping agri-food companies and related stakeholders to become more competitive by improving their business, products and/or production processes.
DIHs shall act as a one-stop-shop, serving agri-food related companies within their region and making agri-food related businesses more competitive by speeding up the development and uptake of digital innovations. They help customers addressing their challenges in a business focused way and with a service model, offering services that would not be readily accessible elsewhere. The funded services available through a DIH shall enable any business to access the latest knowledge, expertise and technology for testing and experimenting with digital innovations relevant to their products, processes or business models.
DIHs usually provide connections with investors, facilitate access to financing for digital transformations, help connect users and suppliers of digital innovations across the value chain, and foster synergies between digital and other key enabling technologies.
The selected projects support individual or groups/networks of stakeholders in the DIH's region or in several regions based on the cooperation of several DIHs proposing a project.
Check the SERVICE Open Call fiche for more information
---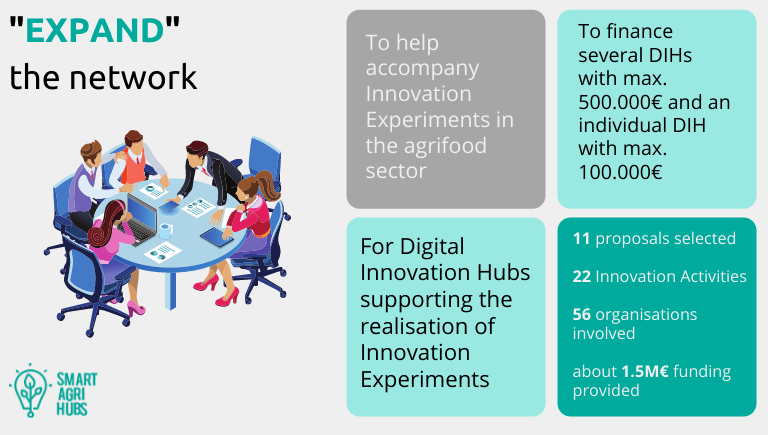 The major amount of funding will be assigned to the implementation of programmes by DIHs to support the realisation of Innovation Experiments. This shall specifically contribute to the expansion of the network of DIHs as well as making available new knowledge and results from digital innovation activities. The EXPAND the Network open call is specifically targeting at DIHs as the main proposers thereby facilitating the realisation of innovation experiments, while the services of CCs would be logically consumed when implementing an innovation experiment.
Proposers should take into account the following key characteristics, in order to submit an eligible proposal for the EXPAND the Network open call.
Check the EXPAND Open Call fiche for more information
Call for Proposals and Evaluation Procedure
Proposals were called under a continuous submission scheme. Proposals were evaluated after reception in varying intervals after the Open Call publishing. The deadlines for submission were regularly announced via this Open Call website. Batches of proposals were evaluated at several deadlines and can start immediately after the proposal evaluation & selection is completed. Proposals were evaluated and selected by experts based on the Evaluation Criteria. To be considered for funding, your proposal must score above a certain threshold for each criterion, and above an overall threshold.
The open calls are now officially closed, as the budget reserved is now completely allocated.


Figure 2: Timing for the SmartAgriHubs Open Calls.
Matchmaking opportunities
The SAH Portal offers the possibility for organisations to connect with different stakeholders (DIHs, CCs, SMEs, technology providers, NGOs, farmers, etc.) through different functionalities:
The SAH Network gathers over 500 organisations in the agri-food and other related sectors all over Europe, identified by organisation type, sector and region. Open Call beneficiaries and interested stakeholders are invited to register and navigate the SAH Network in the search for potential collaborators.
Proposers were invited to check periodically the Open Call Forum to find support from SAH team members on solving doubts and answering questions regarding the Open Calls.
Legacy of our Open Calls
Overall, our open calls helped expand our network, connect organisations across Europe and develop new agritech solutions.
You can discover the work of our Flagship Innovation Experiments and Innovation Experiments on the dedicated section of our website.
What's next?
If the SmartAgriHubs project will end in October 2022, the adventure does not stop there! Most projects supported under the open calls will continue their efforts towards the digitization of European agriculture. Make sure to join our Innovation Portal to connect with our members, join our events and access the resource of our Library!
Latest Open Call Forum Posts